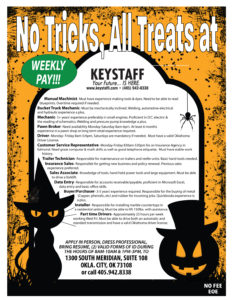 Manual Machinist– Must have experience making tools & dyes. Need to be able to read blueprints. Overtime required if needed.
Bucket Truck Mechanic– Must be mechanically inclined. Welding, automotive electrical and hydraulic experience a plus.
Mechanic– 5+ years' experience preferably in small engines. Proficient in D/C electric & the reading of schematics. Welding and pressure pump knowledge a plus.
Pawn Broker- Need availability Monday-Saturday 8am-6pm. At least 6 months experience in a pawn shop or long term retail experience required.
Driver– Monday- Friday 8am-5/6pm, Saturdays are mandatory if needed. Must have a valid Oklahoma Driver License.
Customer Service Representative– Monday-Friday 830am-530pm for an Insurance Agency in Edmond. Need great computer & math skills as well as good telephone etiquette. Must have stable work history.
Trailer Technician– Responsible for maintenance on trailers and reefer units. Basic hand tools needed.
Insurance Sales– Responsible for getting new business and policy renewal. Previous sales experience preferred.
Sales Associate- Knowledge of tools, hand held power tools and large equipment. Must be able to drive a forklift.
Data Entry- Responsible for accounts receivable/payable, proficient in Microsoft Excel, data entry and basic office skills.
Buyer/Purchaser– 3-5 years' experience required. Responsible for the buying of metal (Copper, phenolic, etc) and rubber for incoming jobs. Quickbooks experience is a plus.
Installer- Responsible for installing marble countertops in a residential setting. Must be able to lift 150lbs. with assistance.
Part time Drivers- Approximately 23 hours per week working Wed-Fri. Must be able to drive both an automatic and standard transmission and have a valid Oklahoma driver license