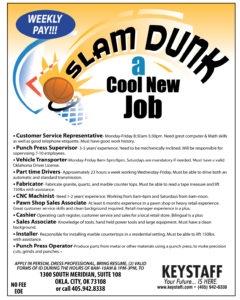 Customer Service Representative- Monday-Friday 830am-530pm. Need great computer & Math skills as well as good telephone etiquette. Must have good work history.
Punch Press Supervisor– 3-5 years' experience. Need to be mechanically inclined. Will be responsible for supervising 7-10 employees.
Vehicle Transporter-Monday-Friday 8am-5pm/6pm. Saturdays are mandatory if needed. Must have a valid Oklahoma Driver License.
Part time Drivers- Approximately 23 hours a week working Wednesday-Friday. Must be able to drive both an automatic and standard transmission.
Fabricator– Fabricate granite, quartz, and marble counter tops. Must be able to read a tape measure and lift 150lbs with assistance.
CNC Machinist- Need 1-2 years' experience. Working from 6am-6pm and Saturdays from 6am-noon.
Pawn Shop Sales Associate- At least 6 months experience in a pawn shop or heavy retail experience. Great customer service skills and clean background required. Retail manager experience is a plus.
Cashier-Operating cash register, customer service and sales for a local retail store. Bilingual is a plus
Sales Associate- Knowledge of tools, hand held power tools and large equipment. Must have a clean background.
Installer- Responsible for installing marble countertops in a residential setting. Must be able to lift 150lbs. with assistance.
Punch Press Operator-Produce parts from metal or other materials using a punch press, to make precision cuts, grinds and punches.