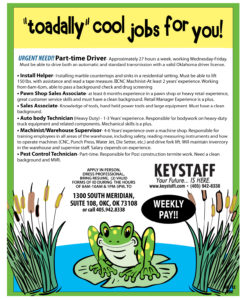 Install Helper– Installing marble countertops and sinks in a residential setting. Must be able to lift 150 lbs. with assistance and read a tape measure.

CNC Machinist-At least 2 years' experience. Working from 6am-6pm, able to pass a background check and drug screening
Pawn Shop Sales Associate- at least 6 months experience in a pawn shop or heavy retail experience. Also with great customer service skills and must have a clean background. Retail Manager Experience is a plus.
Sales Associate- Knowledge of tools, hand held power tools and large equipment. Must have a clean background.
Auto body Technician (Heavy Duty) – 1-3 Years' experience. Responsible for bodywork on heavy-duty truck equipment and related components. Mechanical skills is a plus.
Part-time Driver– Approximately 27 hours a week, working Wednesday-Friday. Must be able to drive both an automatic and standard transmission with a valid Oklahoma driver license.
Machinist/Warehouse Supervisor– 4-6 Years' experience over a machine shop. Responsible for training employees in all areas of the warehouse, including safety, reading measuring instruments and how to operate machines (CNC, Punch Press, Water Jet, Die Setter, etc.) and drive fork lift. Will maintain inventory in the warehouse and supervise staff. Salary depends on experience.
Pest Control Technician- Responsible for Post construction termite work. Need a clean background and MVR.